By HEATHER LARSON POYNER hpoyner@kenoshanews.com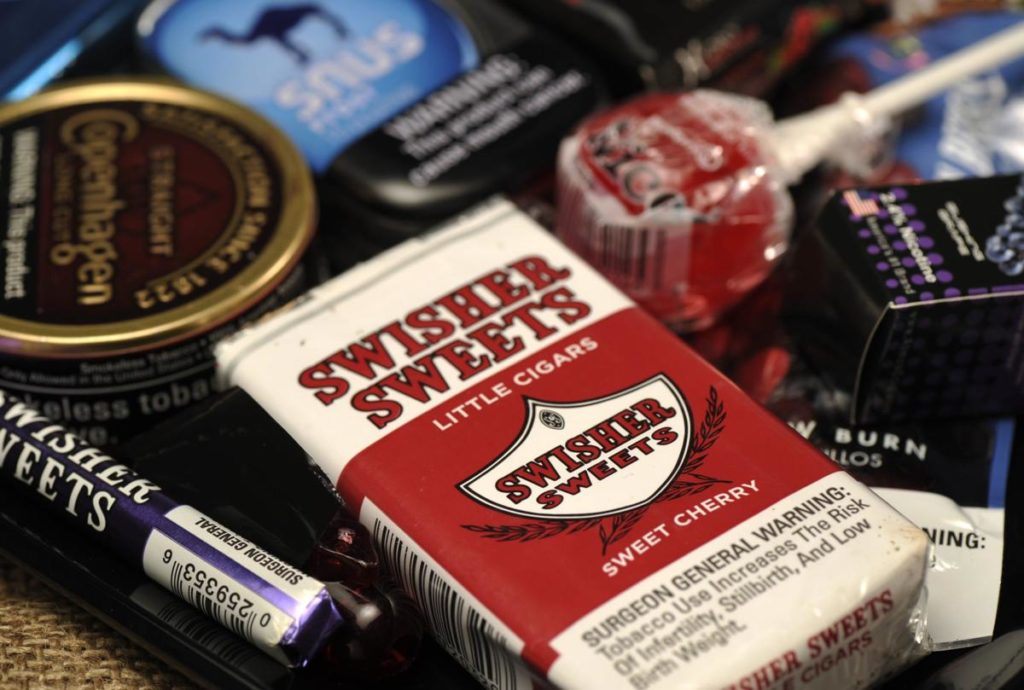 They come in flavors like mango, banana and lemon berry and their dispensers be customized with images of cultural icons like Captain America and Cap'n Crunch.
But, say health experts, the coolest thing in "not quite smoking" is also the most dangerous thing since Marlboro Reds.
Non-tobacco smoking products — slender cigarette-like tubes, large vape-pipe canisters and small, USB-like devices easily concealed in the palm of the hand with the capacity to deliver more nicotine than an average cigarette — are becoming the hottest thing among teen users.
According to recent statistics released by the Surgeon General's office, one in five high school students and one in 20 middle school students in the U.S. are actively using electronic nicotine delivery systems, also known as ENDS.
Studies have shown, however, ENDS are not just "harmless water vapor" but contain propylene glycol, which decomposes to form formaldehyde and other carcinogenic chemicals. And, depending on the strength of vaping liquid chosen, ENDS can contain more nicotine that tobacco cigarettes.
"(Electronic cigarettes and vaping devices) are marketed to the public as safer and cooler than tobacco smoking, but they're not," said Dr. Tim Sanborn, medical director and chairman of cardiology services at Froedtert & the Medical College of Wisconsin.
Among the medical issues that concern Sanborn is the fact that, according to studies, the adolescent brain is more susceptible to nicotine addiction than that of an adult, and that nicotine has been shown to harm parts of the brain responsible for learning, mood and impulse control.
Long-term, the inhaling of these chemical-laced vapors can cause permanent damage to the lungs, noted Sanborn. "Lungs can heal from tobacco smoking, but (e-liquids) contain oils which cling to and destroy lung tissue," he said.
From community cardiologists to the federal Food and Drug Administration and the Centers for Disease Control and Prevention, the products are coming under heavy criticism. Last Friday the Wisconsin Department of Health Services issued an "E-cigarette Public Health Advisory," citing dangers of ENDS use to adolescents as well as the recent jump in sales among youth users.
Last fall, Scott Gottlieb, commissioner of the FDA, stated, "E-cigs have become an almost ubiquitous — and dangerous — trend among teens. The disturbing and accelerating trajectory of use we're seeing in youth, and the resulting path to addiction, must end," he said.
Sanborn, a new member of the Kenosha, Racine and Walworth Tobacco-Free Coalition, applauds Gottlieb's proactive stance. "(Gottlieb) is much more aggressive about tobacco products and e-cigarettes than his predecessors, particularly when it comes to preventing sales to those under 18," he said.
Before joining Froedtert & the Medical College of Wisconsin, Sanborn was an Illinois cardiologist who worked with anti-tobacco organizations and Tobacco 21, the national initiative to raise the allowable age of smoking to 21.
ENDS have been on the national health radar for some time. In 2016, the Food and Drug Administration began regulating "ENDS not marketed for therapeutic purposes" by restricting the age of sales of the products and banning their sale in vending machines.
Invented in China in 2003, electronic cigarettes were introduced to the U.S. in 2007 as smoking cessation aids. And although they have been on the market for over a decade, the popularity of the products has increased exponentially in recent years, particularly among youth.
According to the CDC, 2014 sales of British American Tobacco e-cigarette devices jumped 146 percent, and during 2016-2017, another vaping device, JUUL, increased sales by 641 percent.
Electronic cigarettes and vaping devices consist of a liquid-containing cartridge, a battery that heats up the liquid, a chamber that atomizes the liquid into vapor and an aerosol element that simulates smoke and delivers flavor to the user.
The elements are held together as cigarette-like tubes or rectangular holders as small as an old-fashioned Zippo lighter or as large as a double-size pack of playing cards.
Some devices are pre-loaded with flavored nicotine "e-juice" cartridges, others are refillable, allowing the user to pick his or her desired flavor and nicotine strength. Available nicotine concentrations range from 0 to 25 milligrams. As a point of comparison, an average cigarette contains 6 milligrams of nicotine.
"Marketers try to tell the public that it's a smoking cessation tool, but the FDA says it isn't," Sanborn said. "Nicotine is more addictive than heroin or cocaine."
Among the latest vaping iterations is the JUUL, a device that has the same size and appearance of a computer jump drive. Introduced to the market in 2015, JUUL uses pre-loaded flavored nicotine cartridges called pods.
The post Dangers in the vapor: Electronic cigarettes and vaping devices may pose health hazards appeared first on Kenosha News.