Hope Council - Open House Event April 27th 
The Hope Council will host an Open House event for the public on Thursday, April, 27th from 4:30pm - 6:30pm.
Link to the Silent Auction: www.32auctions.com/hopecouncil2023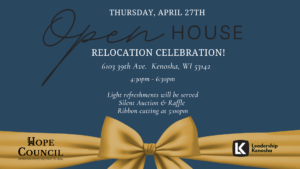 This event will feature a ribbon cutting with the Kenosha Chamber of Commerce at 5:00pm.
Silent Auction & raffle, light refreshments will be served.
Featuring:

Inmoxicated, a "SOBAR" in Racine, WI is NORMALIZING THE DECISION TO BE ALCOHOL-FREE – AND MAKING IT EASY! They will be pouring delicious alcohol-free cocktails at the Open House Event. Samples will be served, cash bar available.
"It is time to enjoy being sober without making sacrifices. Our mission is to help normalize the decision to not drink alcohol by offering a wide selection of premium, alcohol-free beverage alternatives and an opportunity to connect with other non-drinkers. Choose from amazing products from all over the globe that you can take home and enjoy, or you can open it up at our sobar and chill with friends for a night out. We also offer delicious, original, handcrafted alcohol free cocktails made with quality ingredients.