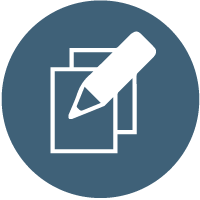 Assessment and Referral Services are in place to ensure that individuals suffering from problems stemming from alcohol and other drug abuse are referred to appropriate treatment providers and provided with appropriate support services.
Intoxicated Driver Program – Trained alcohol and other drug abuse assessors provide comprehensive assessments, referrals, and education to clients arrested for operating motor vehicles while under the influence (OWI) in order to reduce further risk-taking behaviors.
Underage Drug / Alcohol Accountability Program – Eight hours (twelve hours if it is a drug violation) of educational programming is provided as a deferment to an underage drug / drinking violation through an agreement with local courts.
Moral Reconation Therapy (MRT) - In this program participants work to reprogram their morals with introspection and group sharing. Through a 16-step process, individuals are challenged to identify their morals and determine where they have been destructive, oppositional, and/or injurious or even dangerous to themselves or others. MRT is offered at Hope Council on Thursday from 6-7 p.m. The cost to attend is $20 per person, and each participant will be responsible for purchasing a book, which is $25.
The Intervention Project at the Hope Council, a collaboration with Kenosha Human Development Services, will walk you through planning, gathering information, forming the intervention team, deciding on the specific consequences, writing down what to say, the intervention meeting and follow up, in order to formally address your loved one's substance abuse in a carefully planned process.
Community Assessments – Substance abuse assessments are provided to individuals on a voluntary or court-ordered basis.​​ Download Community Assessment Form
Impact Panel – Attendees hear powerful stories from individuals who have been impacted by drinking and driving.                                                       ​