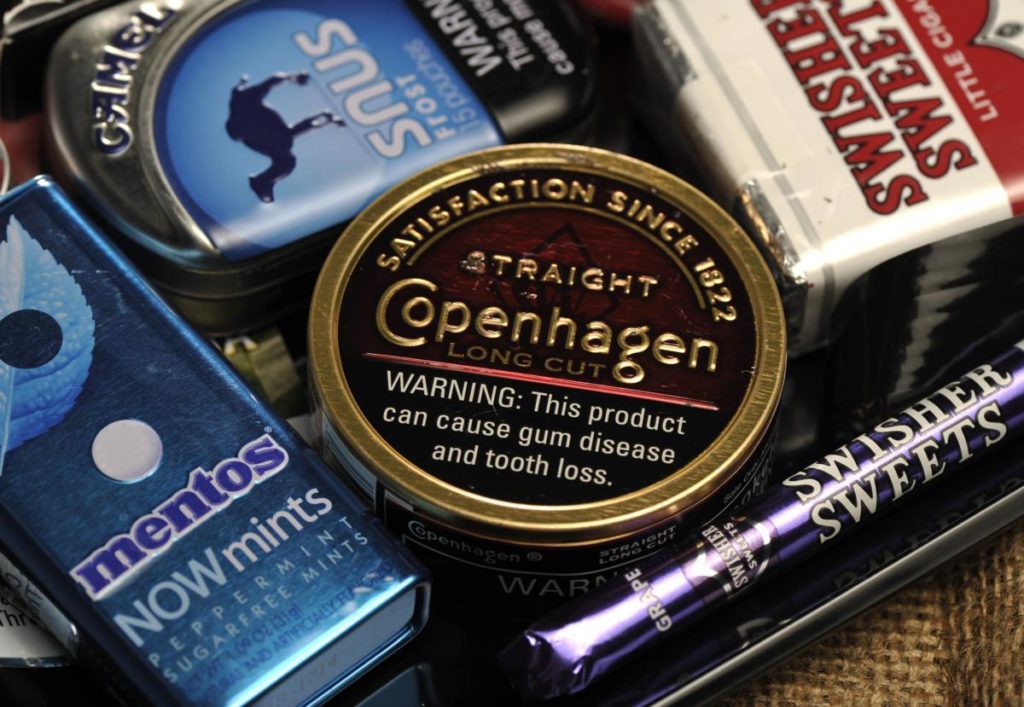 By TERRY FLORES tflores@kenoshanews.com
Retailers who offer tobacco products refrained from selling to minors 100 percent of the time during compliance checks performed at 80 establishments in Kenosha County last year.
That's good news for county law enforcement and local tobacco officials who have been working to prevent illegal sales and deter youth from picking up an unhealthy habit.
According to the Kenosha-Racine-Walworth Tobacco-Free Coalition, local law enforcement and undercover youth decoys conducted the compliance inspections over a three-month period last fall.
Yazlyn Torres, coordinator for the local coalition, attributed the high compliance rate to retailers taking their jobs seriously and following the law when it comes to not selling to minors.
In Wisconsin, it is against the law to sell tobacco products to anyone under the age of 18. Such products include cigarettes, cigars, rolling papers containing tobacco, chewing tobacco, loose tobacco and e-cigarettes that contain nicotine.
According to state law, retailers may incur fines up to $500 with no prior violations in the past year and $200 to $500 if there has been a previous violation. Citations issued to the retailer may also be issued to the clerk, as well.
Violations could also result in license suspensions of up to 30 days.
According to the coalition, retail clerks selling tobacco should consistently card anyone who looks under the age of 27 and to refuse the sale of tobacco product without proper verification of age. In addition, free training for anyone selling tobacco products is available at WITobaccoCheck.org.
Torres said the checks are random and done throughout the year. Recently, the coalition came under the auspices of the Hope Council and will continue to conduct the checks throughout the year going forward, she said.
Still work to do
"To the retailers, congratulations for this," she said. "However, even if we've got 80 out of 80 complying, there's still work to do. Electronic cigarettes are a new thing. Just because we got a perfect score, our work isn't done."
Deputy Ray Rowe, the Kenosha County Sheriff's Department's DARE officer and Deputy Friendly, was very encouraged at learning the results.
"I am pleased about that. That's good. I knew in 2017 we did not do so well. We had 15 citations (out of 99 checks)," he said.
In fact, local tobacco sale citations due to compliance checks have decreased since 2016, when the county had registered its highest number of violations in a 10-year period with 21 illegal sales out of a total 101 retail inspections.
"I think the education that the clerks receive and what happens and the citations that can be administered also helped to deter that," Rowe said.
Rowe said that the greater consequences are the health effects and costs to the community "if there are kids getting hooked on it."
Dangerous to health
According to the coalition, tobacco use is the leading cause of preventable disease and death in the U.S. nationwide; an estimated one out of every 13 youths age 17 or younger smoke; and at the current rate, 5.6 million are expected to die early from a smoking-related illness.
In Wisconsin, about 2,200 kids under 18 become daily smokers each year.
Rowe said he believes the DARE program, in which he instructs fifth-graders, has had a positive effect in deterring youth from taking up tobacco use.
"They want to learn. And we want to get to them before they start making poor choices about what they put in their bodies," he said. "The majority of kids we see are not messing with tobacco, and if they know they can't get it themselves, it's just one more hurdle for them to obtain it."
Growth of vaping
Like Torres, however, Rowe said work remains to be done as a growing number of youth and young adults turn to vaping, smokeless e-cigarettes, or Juuling, with the use of devices that resemble USB drives. Instead of smoking or using tobacco to deliver nicotine, liquids in the nonsmoking devices facilitate the job instead.
"The problem with this is there's still chemicals in there that are dangerous and are also delivering the nicotine," he said.
According to the U.S. Centers for Disease Control and Prevention, more than 16 million Juul devices were sold at retail stores last year, an increase of two million compared to the previous year.
"It's like one of these things like cigarette tobacco was 50 years ago. But it doesn't make them a cooler kid because they vape." he said. "With vaping and Juuling, you're going to hit the same obstacles."
The post Kenosha County retailers rate perfect score in random tobacco compliance checks appeared first on Kenosha News.