E-Cigarettes: What We Should All Know
The skyrocketing e-cigarette usage rate among teens has led the US Surgeon General, Jerome Adams, to issue an official advisory in December, 2018, saying "I am officially declaring e-cigarette use [vaping] among youth an epidemic in the United States."
Teen nicotine vaping rates doubled in one year
E-cigarette use, most commonly known as "vaping" or "JUULing" has nearly doubled among 10th and 12th graders from 2017 to 2018! The University of Michigan's annual "Monitoring the Future" study, which sampled a nationally representative population of more than 44,000 8th, 10, and 12th grade students reported the alarming trend.
According to the study, 20.9% of high school seniors reported vaping nicotine products in the past 30 days, versus 11% the year before. Similarly, 16.1% of sophomores reported using a vape device to deliver nicotine within 30-days in 2018, compared to 8.2% in 2017.
What is vaping?
Electronic Nicotine Delivery Systems (ENDS) is the technical name for e-cigarettes and vaping. You may also hear people talk about "JUULing", which refers back to one of the most popular device brands on the market today. ENDS work by dripping a chemical liquid that contains nicotine, flavorings, and other chemicals onto a heating coil to form an aerosol vapor. Users inhale the vapor, which works just like combustion cigarettes to deliver chemicals into the bloodstream through the lungs.
1 in 5 Wisconsin high schoolers use e-cigarettes
How do teens get vaping products?
The KRW Tobacco-Free Coalition has been working hard to monitor retail outlets' nicotine product placements and compliance with age minimums in Kenosha, Racine and Walworth counties, with good effect. However, internet sale sites are easily manipulated to make underage purchases and teens know it. According to the 2018 "Monitoring the Future" study, 66.6% of high school sophomores reported that they felt vaping devices were "fairly easy" or "very easy" to get.
Kids who vape are 2X more likely to smoke.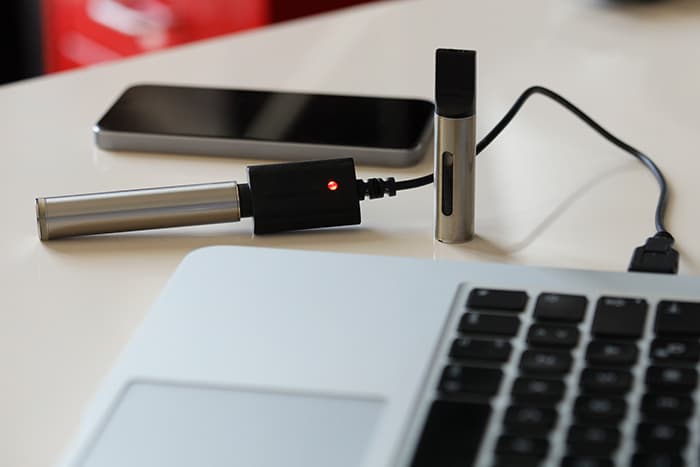 Would you know a vaping device if you saw it?
Vaping devices are camouflaged in plain sight. Companies have evolved their products over the years to the point that many look exactly like a common USB memory stick, pen, key fob, or random trinket. Many devices even recharge their batteries by plugging into a USB port, making them even harder to identify. If you're concerned or suspicious, take a close look at your teen's school supplies and ask questions.
Youth nicotine exposure has negative implications for learning, memory, and attention span.
Isn't vaping less dangerous than smoking?
Vaping is definitely not a safe and healthy activity! The jury is still out on whether vaping is at all safer than smoking tobacco. Among the many concerns, in a 2018 study by the University of California, San Francisco, e-cigarette-only users showed 20%-341% higher levels of metabolites of five volatile organic compounds (VOCs) than the control group. Four of those VOCs are known carcinogenic chemicals. Additionally, three of the five VOCs were just as high in e-cigarette users who only inhaled liquid labeled as nicotine-free, versus users who inhaled liquid containing nicotine.
Nicotine in one JUULpod ™ = Total nicotine in a pack of cigarettes!
All vape liquids are not the same
While there are some vape liquids that are sold as nicotine free, there is currently no standard in place for product concentration labelling or ingredients listing to definitively know what your teen is inhaling. Specifically, the levels of nicotine, and consequently the level of addictiveness can vary greatly by brand or type of device. For instance, an article published in the September, 2018 New England Journal of Medicine details a new technique for deriving the nicotine from tobacco for higher yield. "Traditional e-cigarette products use solutions with free-base nicotine formulations in which stronger nicotine concentrations can cause aversive user experiences. Juul ® and other pod mods [type of ENDS] use protonated nicotine formulations derived from the nicotine salts in loose-leaf tobacco. According to their advertisements, nicotine salt solutions contain nicotine concentrations 2 to 10 times those found in most free-base-nicotine e-cigarette products."